HOUSING
SaskMétis Economic Development Corporation (SMEDCO) is proud to offer the Métis Nation-Saskatchewan First-Time Home Buyers Program (FTHBP) to eligible Métis citizens in Saskatchewan. The program is designed to help Métis citizens overcome the challenge of trying to save sufficient funds that financial institutions require for a down payment to purchase their first home.
Download the Brochure
Download the Application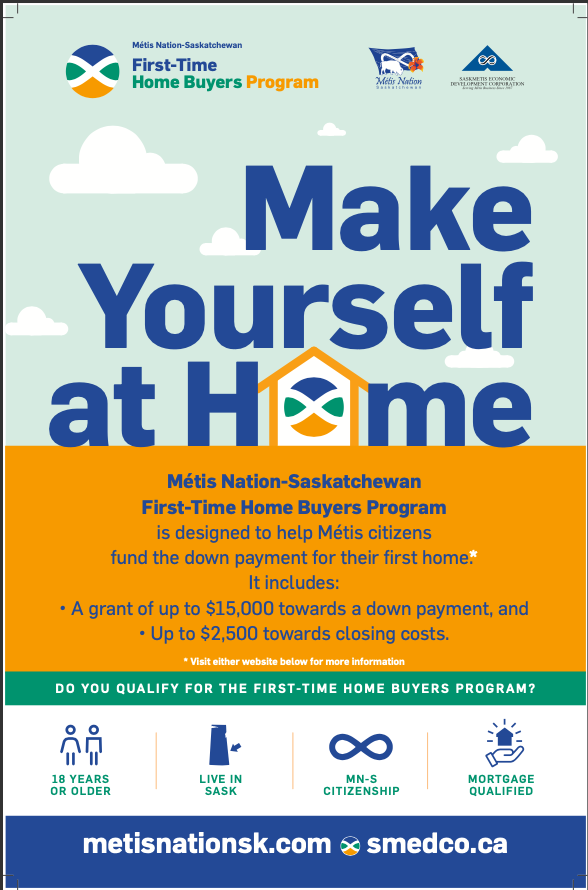 Métis Nation-Saskatchewan EHRRP
Métis Nation-Saskatchewan Emergency Home Renovations and Repair Program (MN-S EHRRP) is a component of the MN-S Housing Strategy. The Provincial Métis Housing Corporation (PMHC) is the delivery agent for the MN-S EHRRP. Download the detailed documents below. Make sure you have signed and dated the application and Asset Declaration Form in pen. Please return your fully completed application to the PMHC office.
Download the Program Guidelines
Download the Application     
2019 Housing Survey
Please fill out the online survey
The Métis Nation-Saskatchewan (MN-S) is currently undertaking a Housing Needs Assessment project. We wish to better understand housing needs, analyze demographic trends for the purpose of developing future housing programs and services.
Through this survey, we will hear directly from you about the current housing conditions in our Métis communities and households, identify challenges, and develop a plan to address these challenges over the next 10 years.
In completing the 2019 Housing Survey, the information collected will contribute to developing an evidence-based Métis-specific housing strategy that will enable MN-S, regions and communities to plan and pursue opportunities to meet their housing needs.
Survey Anonymity and Confidentiality
The Métis Nation-Saskatchewan regards the confidentiality of survey data to be of importance. We want to assure you that your responses are completely anonymous. No personally identifiable information is captured unless you voluntarily offer personal or contact information in any of the comment fields. Additionally, your responses are combined with those of many others and summarized in a report to further protect your anonymity.
We respectfully ask that you complete the housing survey by JUNE 30, 2019.
The 2019 Online Housing Survey is available here or printable version can be downloaded here to be submitted in papercopy to the address below. If the cost of postage is a concern for you, please contact us at the number below and request a self addressed stamped envelope be mailed to you. For more information about the 2019 Housing Survey, please contact:
Dorothy Myo
Senior Director of Policy and Research
Metis Nation-Saskatchewan
Suite 201, 208-19th Street West
SASKATOON, Saskatchewan S7M 5X8
Tel: 306-361-2582
Fax: 306-343-0171
Email: dmyo@mns.work
---